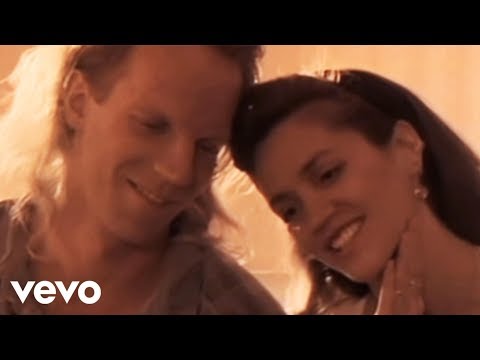 When you take a look back at the 80's, and all of the great singers and song writer's from that era, it is hard to believe that it's been 32 years since this song was released. I remember it like it was yesterday and I remember how it was played over and over on the radio and also MTV.  This has to be one of the most beautifully written songs of the 80's and still a beautiful song now.  This song has many memories attached to it and will always be a part of my early adult years!
"Waiting for a Star to Fall" is a song released by the pop duo Boy Meets Girl in 1988. It was a worldwide hit and became their signature song. Since its release, it has been remixed and covered by many artists, including Cabin Crew and Sunset Strippers.
"Waiting for a Star to Fall" was written by Shannon Rubicam and George Merrill, and was inspired by an actual falling star that Rubicam had seen during a Whitney Houston concert at the Greek Theatre in Los Angeles. The duo did not initially consider recording the song themselves, instead submitting it to Houston's manager Clive Davis, in the hope that he would decide to use it on her next album. Even though Rubicam and Merrill had written Houston's previous hits "How Will I Know" and "I Wanna Dance with Somebody (Who Loves Me)," Davis rejected "Waiting for a Star to Fall" suggesting that it did not suit her. The song was then offered to and recorded by Belinda Carlisle for her 1987 release Heaven on Earth, at the insistence of her label, but Carlisle disliked it and refused to include it on the album. This version has, however, circulated on an unofficial compilation of that album's outtakes.
The tenor saxophone solo on the Boy Meets Girl version was provided in a session recording early in the career of Andy Snitzer, who later found success as a solo artist.
Merrill and Rubicam decided to record the song themselves for their second album Reel Life. Released as a single on June 10, 1988, it became a hit in the United States, slowly climbing the charts and eventually peaked at #1 on the Billboard Adult Contemporary Chart and number five on the Billboard Hot 100 Released in the United Kingdom on November 30, 1988, the song reached number nine on the UK charts during January 1989, having entered the chart in December 1988. It also reached number 35 on Australia's ARIA Charts in April 1989.
The song was used as the closing track to the 1990 movie Three Men and a Little Lady, and the single was re-released as a movie tie-in, with a new picture sleeve featuring the actors of the film. It peaked at number 76 in the UK.
The video game Grand Theft Auto IV included the song in the playlist for the in-game radio station Vice City FM.
Johnny Loftus of AllMusic remarked that the song was "just classic", and that "the urgency as it drives toward its chorus is a clinic for durable songwriting.
The video for the song, directed by Australian director Claudia Castle, features scenes of Merrill and Rubicam singing it on a beach and inside a house. Also featured are scenes of a group of children playing with bubbles, including the couple's young daughter Hilary
Song Lyrics – 
I hear your name whispered on the wind
It's a sound that makes me cry
I hear a song blow again and again
Through my mind and I don't know why
I wish I didn't feel so strong about you
Like happiness and love revolve around you
Trying to catch your heart
Is like trying to catch a star
So many people love you baby
That must be what you are
Waiting for a star to fall
And carry your heart into my arms
That's where you belong
In my arms baby, yeah
I've learned to feel what I cannot see
But with you I lose that vision
I don't know how to dream your dream
So I'm all caught up in superstition
I want to reach out and pull you to me
Who says I should let a wild one go free
Trying to catch your heart
Is like trying to catch a star
But I can't love you this much baby
And love you from this far
Waiting for a star to fall
And carry your heart into my arms
That's where you belong
In my arms baby, yeah
Waiting (however long)
I don't like waiting (I'll wait for you)
It's so hard waiting (don't be too long)
Seems like waiting (makes me love you even more)
Waiting for a star to fall
And carry your heart into my arms
That's where you belong
In my arms baby, yeah
Writer/s: George Robert Merrill, Shannon Rubicam