During my reading of various poets, writers & artists, I happened upon this artist and sculptor. I read his biography and thought to myself, wow, where did this man get energy to do all the things he did and accomplished.   He was intelligent and knew what he wanted to do in life and hit the pavement running!
Jean- Léon Gérôme – The son of a goldsmith and jeweler, Jean-Léon Gérôme was born in the French provincial town of Vesoul in 1824. An intelligent, studious child, he studied Latin, Greek and history at high school. He was taught drawing by Claude Basil Cariage, a Neoclassical painter and former student of Jean-August-Dominique Ingres. Indeed, a young Gérôme showed an impressive talent for art, and his teacher instructed him to learn from plaster casts and models which he had brought to Vesoul from Paris. In 1938 Gérôme won his first prize for drawing, and his work caught the eye of a friend of the French historical painter Paul Delaroche.
Early Training
By the age of 16, Gérôme had obtained his baccalaureate and he left his hometown for Paris, where he went to study in Delaroche's studio, whom he adored. However, Gérôme had gone against his father's wishes in the move, and struggling to survive, he was forced by circumstance to paint religious cards which he sold on the steps of churches to scratch out a living. For three years Gérôme followed a strict routine; studying from casts in the morning, while painting or sketching en plain air in the afternoon. He was also encouraged to copy engravings and Old Masters in the Louvre and to attend classes at the prestigious École des Beaux-Arts. His dedication and ability eventually earned his father's approval, who, pleased with his son's rapid progress, gave him a generous allowance of 1,200 francs a year (which Gérôme often shared amongst his friends).
In 1843 Gérôme and Delaroche traveled to Italy; visiting Rome, Venice and Naples. The young artist wrote in his diaries: "This year is one of the happiest and fullest in my life, and at this time I have made many major progresses." Through Delaroche's connections, he met several young artists and burgeoning photographers, including Henri Le Secq, Charles Nègre and Gustave Le Gray. These new acquaintances would go on to influence the cinematographic look of much of his work. Indeed, in 1856, the French poet and novelist Théophile Gautier had championed photography as a means of enabling artists like Gérôme to paint images that were truly faithful to the real world. Gérôme had in fact returned from his first excursion to the Middle East with over a hundred photographs, and though he allowed his imagination to inform his artworks, Gérôme's highly detailed paintings drew on these photographs to represent his own vision of the colorful region.
On his return to Paris, Gérôme studied under Swiss artist Charles Gleyre (Gleyre had taken over Delaroche's studio). Gleyre taught Gérôme how to improve his drawing and to purify his forms. It was under Gleyre's influence indeed that he matured his skill for genre paining and, in 1846, the brotherhood of the "Néo-Grecs" was established. Led by Gérôme (who became the brotherhood's de facto leader following the positive reception of his painting The Cock Fight at the 1847 Salon) and comprising of Gleyre's other students Jean-Louis Hamon, Henri-Pierre Picou and Gustave Boulange, the Neo-Grecs shared a house ("Le Chalet") on 27 rue de Fleurus, Paris. Gérôme remembered the atmosphere of the Neo Grec community thus: "it was the meeting place for all our friends, and there were musicians too. We enjoyed ourselves in a spirit of total harmony."
Mature Period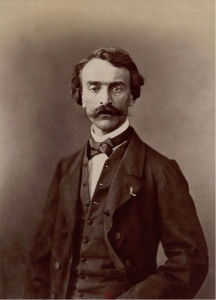 In 1856, Gérôme embarked upon his first trip to Egypt and the Middle East. He traveled the Nile, visited Cairo, crossed the Sinai Peninsula and explored the Holy Land, including visits to Jerusalem and Damascus. He took inspiration from the North African landscape and its people, producing his first Orientalist works.
Three years later, Gérôme captured the imagination of the American public when two of his paintings were exhibited in New York. As art historian Mary G Morton explained: "During the first half of the nineteenth century, Americans focused on native, morally instructive art, but the crisis and loss of national confidence during the Civil War period led to an emphatic turning outward." This drew critics and collectors back to the Old World, and for a time Gérôme's Orientalism came to represent high art in America. However, his success was also his critical downfall; the more popular his art became, the more derided he became as a progressive artist. Morton added: "He was idealized for his professionalism, his cosmopolitan Frenchness, his intellectualism, erudition and refined technical training. But he was also disdained as overly commercial, and suspected of a characteristically French moral degeneracy that some Americans sought to escape in the reconstruction of their national identity." Despite this criticism, Gérôme could command fantastic prices for his canvasses, and his works were selling for ten to a hundred times more than his (certainly more avant-garde) Impressionist contemporaries.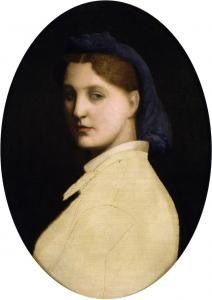 In 1863, Gérôme married Marie Goupil, the daughter of successful international art dealer Aldophe Goupil, who he had been working with for four years. He described his 21-year-old bride as "a young woman of rare beauty and charming grace." They moved to a townhouse at 6 rue de Bruxelles, near the music hall the Folies Bergère, (immortalized by Édouard Manet's painting of the forlorn bar woman). Their first child, Jeanne, was born that year, and they would go on to have three more daughters and one son. His good fortune continued when, in 1864, he took up a post at the prestigious École des Beaux-Arts, becoming one of the school's most respected teachers.
Gérôme's professional relationship with Aldophe Goupil – known as "the international powerhouse of contemporary art dealers" – was crucial to the artist's success. Goupil sold photographs and photogravures of modern paintings through offices in New York, London, and Berlin and Gérôme became his most reproduced artist.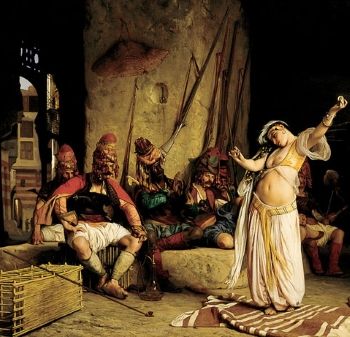 Gérôme, meanwhile, travelled throughout the Europe and the Middle East, visiting Spain, Greece, Turkey, Jerusalem, and Syria. He visited Egypt no less than six times in his life and his tours inspired some spectacular, shocking and provocative paintings, including pictures of slaves waiting to be sold at market, women luxuriating in Turkish baths, a belly dancer entertaining soldiers at rest and severed heads hanging from hooks outside a mosque. He was widely dismissed by intellectuals as a fantasist whose work served only salacious and commercial ends. Indeed, the French writer Émile Zola lambasted Gérôme at Paris's Exposition Universelle of 1897, accusing him of being a "cynical manufacturer of anecdotal images for mass reproduction and popular consumption."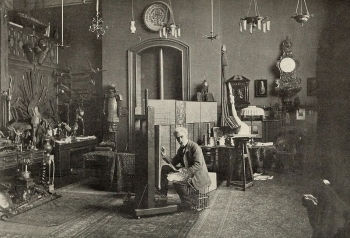 Gérôme was 55-years-old when he discovered sculpture though he tackled it "with all the passion and seriousness of a young artist", according to writer Édouard Papet. By this time Gérôme had also made a name for himself as a vehement anti-Impressionist. In 1884, he fought the École des Beaux-Arts when it staged the posthumous exhibition of Édouard Manet. Gérôme said Manet "was the apostle of a decadent manner, of a piecemeal art" and while he (Gérôme) had been "assigned by the Nation to teach young people the grammar of art" he did not think his students "should be presented with the model of highly willful and lurid art by a man who never developed the rare qualities with which he was endowed."
Around the same time, Gérôme fell from grace in the US; denounced as a corrupting influence on American art. An article in the New York Evening Post in 1882 claimed that Gérôme was an exemplar of the current trend of artists painting purely for popular appeal to attain high prices. The Barbizon School began to take over, and collectors opted instead for the works of artists likes of Jean-Baptiste-Camille Corot, Théodore Rousseau and Jean-François Millet.
Late Period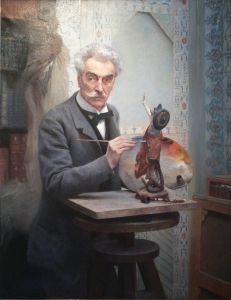 By 1898 Gérôme was nominated Grand Officer, the penultimate rank in the Légion d'honneur and a rare distinction for an artist. He has been described as a man fascinated with appearances – both others' and his own. He dressed well, was proud of his bushy mane and enjoyed being photographed. The Art Journal said Gérôme's look was "peculiar" before adding that "his head, with its deep-set, large eyes, wild masses of grey hair, and pointed grey mustache is eminently picturesque. He is as thin as a shadow, and is distinguished for extreme industry, excessive irritability and extreme dislike of visitors." In the catalogue that accompanied a 2010 Getty exhibition revisiting the Salon painter's work, The Spectacular Art of Jean-Leon Gérôme, Laurence des Cars, Dominique de Font-Reaulx and Edoard Papet stated: "This concern for his appearance certainly reflected a refusal to let himself go, a determination to retain control that was also expressed through his fierce loyalty to scrupulous, meticulous, artistic craft."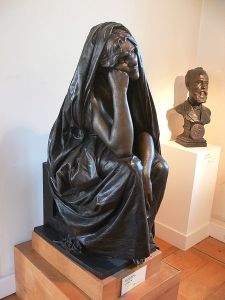 Gérôme's concern with his own appearance seemingly informed his own death in 1904, when he died neatly and without fuss in his studio at the age of 80, in front of a portrait of Rembrandt. French writer Albert Soubies wrote that he had succumbed "to death suddenly, in full stride and full energy, without a preliminary period of gradual physical decline. Barely one week ago he could be seen, slim and upright like an officer in civilian clothing." His rank as Legion of Honor entitled him to a funeral of military pageant, but he left instructions for a simpler affair. He was buried in the Montmartre Cemetery in front of his own sculpture, Sorrow. It is estimated that he produced some 600 canvases, sixty sculptures and hundreds of drawings and studies during his lifetime.
The Legacy of Jean-Léon Gérôme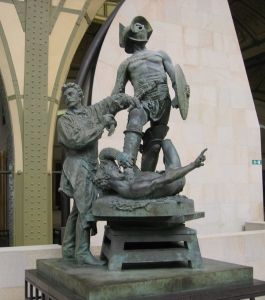 Gérôme's career ran parallel with another French artist, William-Adolphe Bouguereau. The latter's beautifully executed Neoclassical nudes, religious and genre paintings were also hugely popular with the public, but, like Gérôme, Bouguereau divided opinion due in part to his disdain for Impressionism. And, like Bouguereau (and like two more contemporaries, Alexandre Cabanel and Jean-Louis-Ernest Meissonier), Gérôme fell into critical disrepute after his death. Despite the fact that his work is held in collections by the Louvre Museum and Musée d'Orsay in Paris, The Metropolitan Museum of Modern Art in New York and the National Gallery in London (amongst others), Gérôme's relevance, especially in recent decades, has been questioned; his bitter opposition to modern art not helping matters (Gérôme became known in fact as the "anti- Monet"). As art critic Christopher Knight noted, "From Manet to Cézanne, every artist we revere today was on the other side of [the] Gérôme fight."
The authors of The Spectacular Art suggested meanwhile that history had relegated Gérôme to the status of illustrator in that his art "survived primarily, and increasingly anonymously, in the form of pictures that embellished dictionaries, encyclopedias and history textbooks." Gérôme's art was dealt yet another blow with the publication of Edward W. Said's seminal text Orientalism (1978) which railed against the European fetishization of Eastern culture.
Those criticisms notwithstanding, Gérôme's influence can be seen in the work of American artist Thomas Eakins, from whom he learnt the science of observation and Gérôme's heightened sense of realism. Another American artist, Jon Swihart, stated that he was "genuinely obsessed" with Gérôme's "different, exotic, strange, photographic [and] perverse [art]." Even more recently, the 2010 Getty Center's retrospective claimed to reconsider "the variety and complexity of Gérôme's masterful oeuvre" with curator Scott Allan adding that Gérôme had been "one of the most influential art teachers of the nineteenth century [whose] pedagogical reach extended to thousands of students from the United States to the Ottoman Empire." His pupils included the prolific Swiss realist painter Eugene Burnand, the American Impressionist Dennis Miller Bunker, the French academic painter Delphin Enjolras and the famous Russian war artist, Vasily Vasilyevich Vereshchagin. He has also been admired for his epic panoramas with his paintings of battling Roman gladiators cited by producer Walter Parkes and director Ridley Scott as reference points for their 2001 Oscar winning film, Gladiator.
To read more about Jean-Leon Gerome, please copy and past the link into your browser.